A couple of recent headlines caught my attention.
From Quartz:
From Re/code: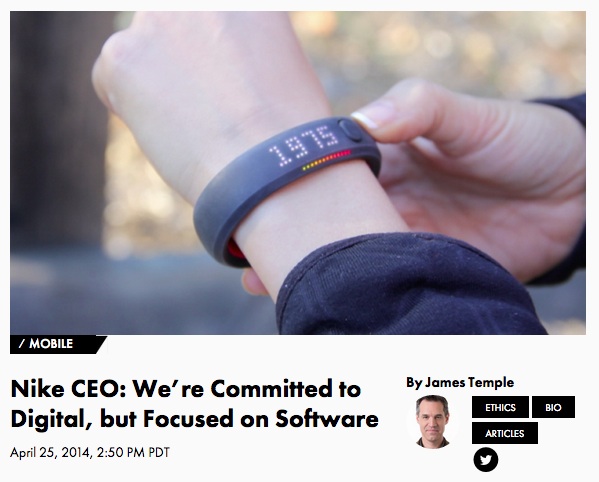 I imagine myself sitting there in 2004, given a sneak peek at the future, and contemplating these headlines. I would immediately be puzzled. Why is a coffee company and a footwear company talking about revenue related to technology? What happened?
What's happened is that both of these organizations realize that in order to provide something of value for their customers, they need to know more about them. They realize that as the intersection between the physical and digital continues, new opportunities for value creation are emerging.
From the Quartz article:
What's interesting: Starbucks is at its core, a coffee company. But Schultz said during the company's earnings call that it has gotten so good at leveraging its mobile apps, mobile payments, and loyalty cards (which made up nearly one-third of its transactions) that other major retail and technology companies have asked about licensing its mobile platform. The company is evaluating these approaches, but Schultz said it could be a future source of profit.
We've seen Amazon create an entirely new business based on their internal innovation and establishing of world leading core competencies.
From Nike's perspective, CEO Mark Parker had the following to say on CNBC's Squawk on the Street"
Well, first of all, digital sport, as we call it at Nike, is incredibly important to us. We think it's going to be a bigger and bigger factor in terms of the experience consumers have with the products that we create. So you're going to see digital actually be more and more integrated into other products that we have. Our goal is to actually increase the number of users, those that can actually experience Nike Fuel and the Fuel System that we have, as well as other applications.

We are focusing more on the software side of the experience. I think we will be part of wearables going forward. It'll be integrated into other products that we create. And then we'll look at expanding our partnerships to create more reach for the Nike Fuel and Fuel System that we have.
Nike realizes that their customers are looking to perform the best they can, in comfort, and to look good while doing it. Getting closer to customers – acquiring and sharing information in meaningful ways, is a key to Nike's future success.
Starbucks has long focused on customer experience and realize that leveraging technology is key to creating a great experience for their customers and employees.
But what if you're not a global iconic brand?
On one hand, it's easy for Starbucks and Nike to invest significant amounts of money in R&D and technology infrastructure. Quite simply, they have it in the coffers. However, they are also public companies, heavily scrutinized for their decisions and the subsequent impact on quarterly earnings. It's one of the reasons why Dell recently went private.
Whether your organization is an iconic brand or not, you're not necessarily required to become a technology company, but the odds of your organization keeping up with the pace of change without significant help from technology are growing against you.
Consumer facing industries like retail and financial services are going through dramatic transformations. B2B industries are leveraging new technology to measure and predict propensity to buy, and streamline supply chain operations.
At the beginning and the end of all these efforts is the customer. The customer who is increasingly mobile, intelligent, and leveraging technology themselves to try and get an edge in life.
Critical questions
Four critical questions leaders of all organizations should be asking are:
How can leverage technology to:
(1) Understand more about our customers?
(2) Enable our customers to accomplish what they're trying to do?
(3) Help our customers to feel great / experience some positive emotion?
(4) Provide something of value in the context in ever narrowing slices of context?
Nailing 3 out of 4 should provide positive results.
The journey is never ending and the marketplace likely won't reward waiting for best practices. The network economy rewards those who move first, or best. One recent example is that Google Now is now alerting people when they're in general proximity to products that they've researched online.
This post was provided as part of the IBM for Midsize Business program, which provides midsize businesses with the tools, expertise and solutions they need to become engines of a smarter planet. I've been compensated to contribute to this program, but the opinions expressed in this post are entirely my own and don't necessarily represent, nor have they been influenced by IBM's positions, strategies or opinions.