Leaders face an increasingly complex challenge, or series of challenges.
Many of them have spent their entire lives understanding how the world works; honing and perfecting their trade. Now, they are confronted daily with an onslaught of new buzzwords, acronyms, and technologies which potentially threaten what they've come to believe and have aligned their organizations around.
The challenges that face them are difficult ones. The questions don't have clear cookie cutter answers.
How much of what we believe we know do we cling to?
How much do we leverage our core capabilities and institutional IP, and how much do we adapt to changing market conditions?
How much to we invest in social, in big data, in mobile, and other trendy technological capabilities?
Democratization of access is accelerating the pace of evolution in our societal systems. It's affecting government, institutions, organizations, and individuals alike. It's even threatening to change our monetary systems, as technology allows us to redraw boundaries and reconsider concepts of currency.
What most senior level leaders haven't picked up on yet is that the people, teams, divisions, media, machines, assets are all just nodes in a network. A network that communicates in real time – where value is distributed quickly than ever before, and where network effects create swarms of attention, focus (and profits) around critical issues.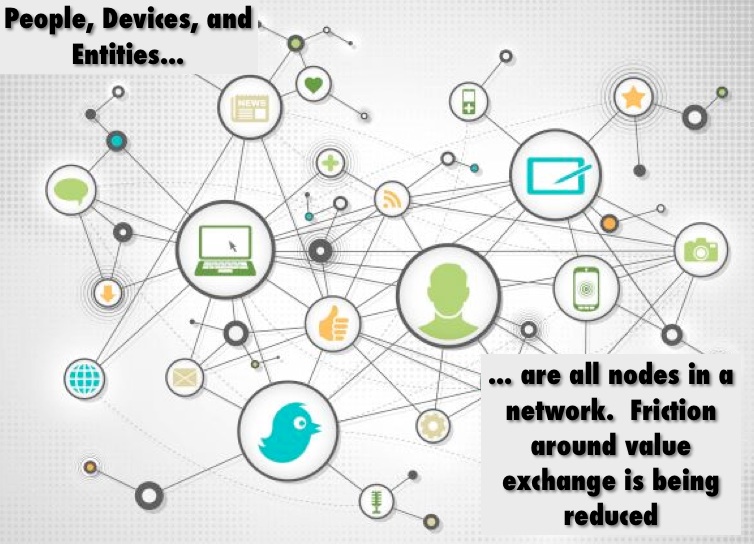 An increasing surplus of "capabilities on demand" are emerging. Evidence is all around us. Think about how the "sharing economy" is further lowering the boundaries of value exchange. oDesk, Task Rabbit, Coursera, Uber, Lyft, Square, etc. all provide examples of providing reduced friction around exchange. The "maker's movement" is growing at an unprecedented speed. Global access to broadband continues to grow at a rapid clip, bringing more players from around the globe into the restless churning sea of supply and demand.
As these boundaries continue to fall, commerce will continue to evolve.
Building an efficient hierarchy of linear widget production and distribution is giving way to a marketplace that rewards "sense and respond" capabilities. Heavy investment in building kingdoms is giving way more frequently to buy, lease, and assemble.
We're still learning about what this all means, but one thing is certain. The shift requires new thinking about value creation models. Legacy regulations, expectations, beliefs, and infrastructure will impact the pace of change, but the evolving dynamics are inevitable. The digitization of everything places a premium on increased speed and intelligence, everywhere in the value chain. The customer leads with evolving expectations. New platforms and actors are evolving to find new roles in evolving systems.
Instead of seeking to build hierarchical kingdoms, innovative leaders are becoming the most powerful central nodes in their networks, which enables them to sense and respond with increasing visibility and capabilities to rapidly shifting marketplace demand.
This post was provided as part of the IBM for Midsize Business program, which provides midsize businesses with the tools, expertise and solutions they need to become engines of a smarter planet. I've been compensated to contribute to this program, but the opinions expressed in this post are entirely my own and don't necessarily represent, nor have they been influenced by IBM's positions, strategies or opinions.