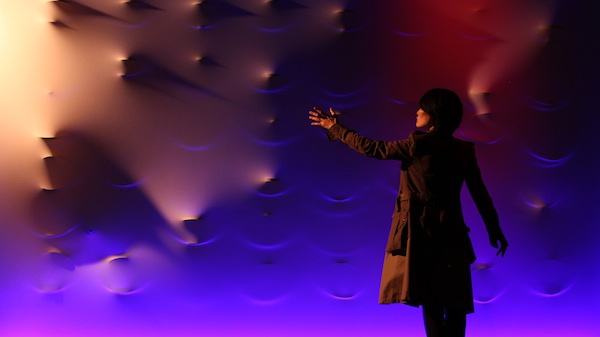 "If these walls could speak…"
The phrase invokes wonder and horror, depending on who you are, and what may have happened within the walls in question.
Surprisingly, we're now at a place in history where we can envision a time where the walls might actually be able to speak. And the imagination of this scenario invokes utopian and dystopian visions of what the extreme scenarios might be.
But, do we want this? What would we want our walls to say us? What if they could not only speak, but also do much more?
Do we want them to inform us on what they see on the outside; the weather, the traffic, the people, the animals that are just on the other side of our walls?
Do we want them to change color to reflect the mood of the people within the walls, or the style and trends of the season?
Do we want them to virtually transport us to different places or times?
Do we want them to show us or tell us about how they observe our lives; Our comings and goings? Our current behaviors? Our bioinformatics? And how those behaviors and bioinformatics compare to previous time periods, or the neighborhood, or the general population of your country, or the world?
These are significant things to consider.
But these possibilities and questions aren't just limited to walls. What if tables, park benches, swings, appliances, cars, and nearly everything around us were suddenly able to sense, communicate, and respond? And what if they were able to sense, communicate, and respond not just with us, but with other things and people as well? The limits of these connections are continually extended outwards towards an ever extending edge. Anything that is connected can potentially sense, respond, and communicate with any other connected thing.
The simultaneous advancement of disparate technologies are causing futuristic scenarios haphazardly drop into the present, without precedence, and without clarity. The growth of Siri, Cortana, and Google Now are bringing the reality of speaking walls, appliances, or anything else that has enough processing power and a connection to the internet into the present. But, that's only a small fragment of the story.
As more and more things and people become connected, the world is collectively getting smarter.
Cities and farming are becoming smarter. For instance, what Santader, Spain is doing to help make finding a parking spot easier, creating a better citizen experience and cutting down significantly on pollution. A number of solutions are helping make vineyard management easier by monitoring plants for indications of disease, water levels, and weather information, allowing greater yields to be produced with greater reliability.
Management and utilization of our natural resources like water and electricity are being improved because of automated sensors that are optimizing the use of these precious natural resources. Smart metering is being used and deployed by both utilities and private citizens and corporations around the world.
Advancements in retail, logistics management, and industrial control are being realized when information about customers, products, spaces, and devices can be synthesized and optimized for optimum levels of transactions.
Homes are being automated based on established rules and conditions, and the advancements in personalized and contextual health care will revolutionize how we think of medicine in the next couple of decades.
New Possibilities Everywhere
Advances in available broadband, storage, computing power, and the exponential decrease in costs are allowing new possibilities to reveal themselves faster than most of us can keep up. If the trajectory holds, these core building blocks of (technology) innovation will continue to become more capable, and more available to a broader selection of people.
In addition, these broadly available capabilities are being assembled in ever smaller packages. Not only will most of the humans on the planet be connected to the internet via their smartphones, but in the near future, small devices will be inside of us, allowing medicine to be automatically administered, and instantly relaying critical information about internal details to anywhere on the planet (or the universe).
Increase of Digital Anarchy
But when everything gets smarter, the potential for digital anarchy rises. For the mainstream. the technology may actually be racing ahead of the realistic appetite for its collective application(s). It's advances are outpacing the ability for legislation to understand what's happening, let alone put the appropriate guardrails up.
The likelihood of new power structures that disrupt traditional institutional and geo-political boundaries seems to be increasing. As we're increasingly connected across these boundaries, more and more questions are arises about who has jurisdiction to govern global interactions that happen in the new digital realm.
The Discovery of a New Flame
The discovery of fire revolutionized the world.
(1) It introduced for the first time the ability to extend the day beyond when the sun was up.
(2) It provided the ability to cook meat, which changed diets and body composition.
(3) It enabled humans to stay warm when cold.
(4) It provided protection from predators.
(5) It created a meeting place that likely brought people together to share stories, communicate, and collaborate like they never had before.
Human history was significantly altered. But it's important to note that all of these new possibilities arose from the ability to harness and control the use of fire.
Without the ability to create, manage, and extinguish fire, it is a force out of control, incredibly unreliable, and vastly destructive.
It is likely that these things that we now recognize as fundamental took hundreds or thousands of years of trial and error to comprehend and properly apply. We're now going through a similar process in a vastly condensed time continuum.
In addition to fire, humans have harnessed auxiliary capabilities to perform tasks throughout human history; Beasts of burden, other humans (voluntarily or involuntarily), pick axes, the wheel, the automobile, and more recently computing power and technology.
We are outsourcing increasingly complex tasks to our "machines"; Emerging hardware, embedded software, advancing algorithms, all armed with the collective power and capabilities of the internet are lighting new flames of possibility. Many experts expect that in the next several decades, artificial intelligence will be capable of competing with or even exceeding human intelligence. Because of this, many existing corporations, institutions, and jobs are at risk, but new ones are evolving.
These impact of these changes are not limited to a finite few. Corporate leaders, marketers, sales people, service agents, inventory and production managers, government officials, and citizens in every socio-economic class of every country the planet will be effected by the Internet of Everything. The impacts may vary in their severity and in their timing, but the second coming of fire is now upon us.
How will you respond?
This post is brought to you by InnovateThink and Cisco.
IMG Credit: Behnaz Ferahi