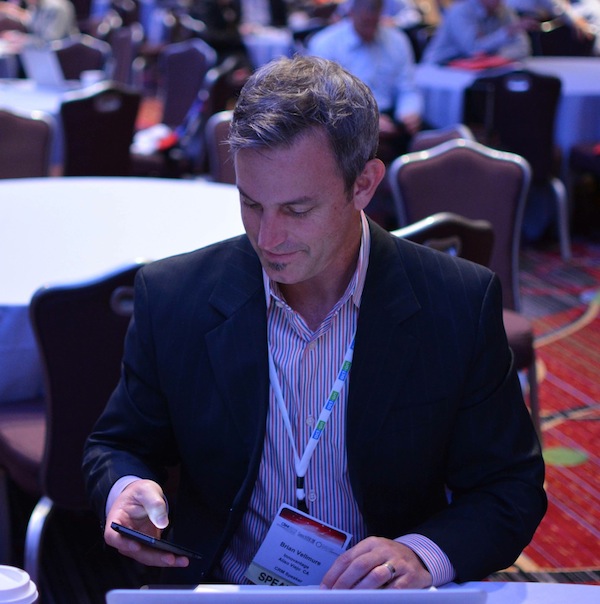 Faces down. Palms up. Mesmerized Stare.
It's the position of humans at stoplights; In elevators; In lines; Just about everywhere and anytime that they're not engaged fully and directly with someone or something else. Even when they folks are watching one screen, they're increasingly using their mobile devices. For many, our mobile phones have become inseparable from us.
Some quick stats:
57% of women would rather give up sex than their smartphone for a week
20% of 18-34 year olds have used their smartphone during sex
Facebook now has 1 billion people using their mobile app. 300 million of them use mobile exclusively.
The average smartphone owner checks their smartphone 150 times per day.
This dependence has even created a new condition called Nomophobia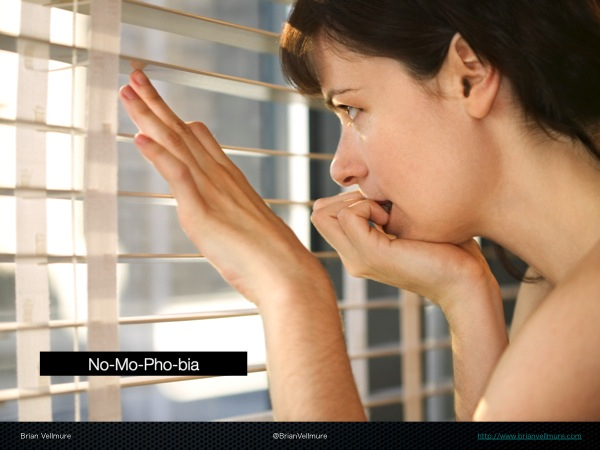 Nomophobia – no mobile phone phobia – anxiety of not having your phone around. I have a not so mild case of that. #amasas

— KristinaKodjabacheva (@kristinabk) May 1, 2014
Our desire for connection is becoming deeply engrained in our patterns, behaviors, and expectations. We see this also playing out in the workplace.
Salesforce.com's CEO Marc Benioff has repeatedly stated the fact that he (and even GE CEO Jeff Immelt) runs his $30 Billion organization from his mobile phone. Benioff believes, and the data suggests, that mobile will increasingly become the primary interface for computing interactions in the enterprise.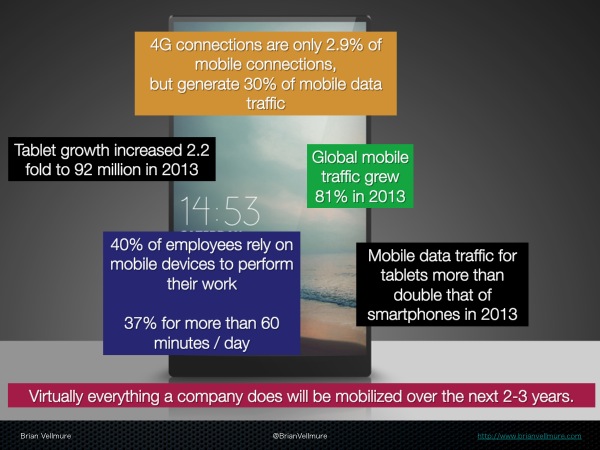 But, practically speaking, the fact that we all walk around with these devices that require us to disengage from our surroundings and manually open apps, send messages, and search for things will soon be obsolete.
At some point in the near future, I believe we'll look back at this era the same way that we view remote control cars that were attached to the controller with a wire, or televisions that required you to walk up to them and turn the knob to change the channel.
Virgin Atlantic has already made a bet that they can provide a differentiating experience by allowing their employees to leverage the power of wearables.
Looking Ahead
A few weeks ago, a friend (and Google employee) let me borrow his Google Glass for a bit. It was interesting to imagine the future of wearable technology. Besides the general geekiness factor, the interface needs some work, but the vision has been cast.
Voice and gesture control that allows me to keep my hands free, and engage with the world around me in a more natural way makes a lot of sense.
I tried Google Glass yesterday for the first time. We're still a couple of generations away from potential mainstream adoption.

— Brian Vellmure (@BrianVellmure) May 15, 2014
The day before at the San Jose airport, I witnessed a gentleman wearing what I believe was the next generation of Glass – a smaller hardware device attached to some sporty glasses. The next phase of the future is getting closer. Whether it's Google or a slew of competitors that are working on wearable glasses that ultimately emerges as the victor is yet to be determined, but the next evolution of what we call smartphones today will be more closely connected to us than they are today.
In the last several days, both Samsung and Apple announced coming technology that will act as a collector of data about health characteristics.
Today's smartphones allow users to access information and to communicate and share on a growing plethora of channels. It's a natural progression to integrate those functions into a form factor that is more natural and more tightly embedded with our natural and physical selves.
MORE READING: When our Neurons are connected to the Net
The tighter integration between digital and physical will allow a more granular understanding of us and the world around us and a more fluid exchange between them.
So what does this mean for senior leaders?
1. If you haven't taken mobile seriously yet, you're late. Over the next couple of years, it will likely become the primary channel for your customers and many of your employees. Mobile, combined with the power of the cloud is enabling better and faster access to information and people. Invest now to enable the operational speed and agility necessary to compete in a networked environment.
2. Recognize that mobile is not the end. It is a transitionary step as we move towards everything being connected. Laying the framework for a wearable world by creating an information architecture and a networked culture can and should begin now.
This post is brought to you by InnovateThink and Cisco.