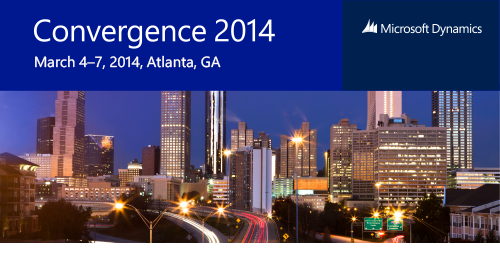 Spread out across downtown Atlanta, in the blustery shadows of CNN World Headquarters, Microsoft Convergence 2104 took place last week. For those unaware, Convergence is the conference where the Microsoft Dynamics customer and partner communities get together to learn, share, and network.
This year's event, held at the Georgia World Congress Center, and Phillips Arena, brought more than 12,000 people together to learn about changes and advancements in the Microsoft Dynamics ecosystem, headlined by Microsoft CRM, and AX, with strong cult followings from GP, NAV, and SL.
In general, the event was well executed. Keynotes spent time illustrating and talking about real life scenarios, while highlighting customers and partners like Delta Airlines, New Belgium Brewery, Trek Bicycles, Metro Bank, Nissan, Accenture and Avanade. Russian Born Dynamics President Kirill Tatarinov highlighted the successful powering of the Sochi Olympics – run entirely on Microsoft technologies, including Microsoft AX and CRM. Arianna Huffington impressed attendees with her charm, wit, and wisdom, and Biz Stone shared some of his life experiences and perspectives with New Belgium beer in hand, and presentation notes scratched on the back of a receipt.
The event primarily highlighted the recent progress in a directional evolution that has matured over the last several years, generating increasing amounts of buzz and excitement in the partner and customer communities.
While there's much to cover from the event, below are five important themes worthy of your attention. Please feel free to contact me directly for additional details.
Major Themes
Microsoft undergoing significant change
Dynamics moving up in the world of Microsoft
CRM and AX leading the charge
MS CRM expanding – momentum accelerating
Microsoft Dynamics Challenges and Opportunities
Microsoft undergoing significant change
Unless you've been hiding under a rock, you know that Microsoft recently hired Satya Nadella as its third CEO in its 38 year history. He's already bringing his own changes to the organization, shuffling personnel in the executive suite. Something tells me these won't be the final moves, as Mr. Nadella is tasked with helping Microsoft evolve and re-capture the greatness that has eluded them for much of the last decade. The execution of the "One Microsoft" vision laid out by Steve Ballmer prior to his departure will take a while, even if successfully executed. With that as the macro backdrop, let's take a closer look at Dynamics, the primary focus of the
Dynamics gaining clout in the Microsoft universe
In the broadly spanning realm of one of the world's largest and most recognized companies, Dynamics is relatively small. While they don't share actual revenue numbers for the business unit, estimates range somewhere between $1.5 billion and 2.25 billion annually. As a standalone company, this would be a relatively large organization. However, this is a small slice of a company that will do in the neighborhood of $80 billion this year.
However, Dynamics has seemingly been more of a focus for the tech giant in recent months. At the Fall Analyst Day a few months ago, both Satya Nadella, and then CMO Tami Reller spent significant time with about 60 of us in analyst community – highlighting future vision and the importance of Dynamics role in the future of Microsoft. In Steve Ballmer's last company meeting, Dynamics got meaningful airtime, when discussing the future of the organization. The elevation of Nadella to CEO also likely bodes well for the Dynamics team, given his intimate understanding of the business, after serving prominent roles in the business unit between 2001-2007.
This increased focus and elevation of the Microsoft Business Solutions group was further amplified by the on-stage presence of Microsoft North American President Judson Althoff, who demonstrated on an 80 inch touchscreen his use of Dynamics to manage all of Microsoft's North American Sales and Marketing efforts.
The apparent increased focus likely means additional investment in both R&D and marketing budgets for the Dynamics team. If properly managed, this should also bode well for their current and future customers.
CRM and AX leading the charge
Front and center in most of the Dynamics presentations and messaging are AX (their flagship ERP product), and Microsoft CRM. Key highlights are that Microsoft CRM has achieved 38 straight quarters of double digit growth, and saw 80% growth in Dynamics CRM Online. AX grew new customer adds by 30% the most recent year. That said, recent investment in the other ERP products, GP, NAV, and SL has helped to ease some concerns from the smaller product ERP partner community. The maturation of Azure and Office 365 is enabling Microsoft to bundle ERP software with their traditional productivity apps. Longer term, cloud should continue to enable "easier to consume" ERP offerings, via the cloud, On Premise, or in increasingly robust hybrid environments.
MS CRM expanding – momentum accelerating
The last 18 months have been pretty remarkable for the CRM team and product. Microsoft has evolved a 2011 product that looked and functioned very similar to legacy versions of Outlook, to a totally redesigned UI (User Interface) focused on ever narrowing contexts, and can be easily deployed via cloud or on premise. Estimates range that between 65-90% of all net new deals are being deployed via the cloud. In several conversations with Microsoft CRM partners, they all seem excited about the rapidly evolving product.
In addition, a number of recent acquisitions and enhanced development efforts have transformed a product that was largely deployed as a SFA tool in B2B environments, to a platform that is now being deployed to a growing sphere of B2C customers, with ever widening capabilities which allows Dynamics CRM to successfully address more customer service and marketing use cases out of the box.
SOCIAL LISTENING
The acquisition of little known NetBreeze about a year ago, has now matured into Microsoft Social Listening. While social listening capabilities have actually been available in the marketplace for several years now, with many of the major early players getting acquired or broadening their offering, the Microsoft Dynamics community seemed excited about the listening offering to be released in Q2 of 2014. One of the primary differentiators is it's multi-lingual capabilities. NetBreeze, a Swiss company, developed a language sentiment analysis engine that works with five languages, natively. Interaction capabilities are available in 19 languages. This has the potential to be a differentiator for global organizations looking for a social listening capabilities. The integration of these capabilities with the broader Dynamics CRM suite is especially attractive for Dynamics CRM customers.
MICROSOFT DYNAMICS MARKETING
When Microsoft bought Marketing Pilot, I received several private messages from Marketing Automation experts and analysts with a collective "who?"
Marketing Pilot had a small but impressive list of customers, but was actually more of a MRM (Marketing Resource Management) solution, which allowed marketers to manage and optimize their spend across all channels (digital and analog). With many of the leading marketing automation vendors getting acquired over the past couple of years, it seemed like Microsoft would likely acquire these capabilities in order to match Salesforce (Exact Target / Pardot), and Oracle (Eloqua).
However, at Convergence, Microsoft revealed a totally revamped Marketing Solution, which is set for release this Spring, and already demos very well. It is being positioned as a complete marketing platform that allows marketers to manage the entire breadth of their work. It contains the building blocks of analytics, automation, campaigning, and budgeting/cost management.
The solution has an attractive UI and will come with an integration to Dynamics CRM, which promises to help significantly with managing lead flow and closed-loop marketing.
CUSTOMER SERVICE: PARATURE AND UNIFIED SERVICE DESK
Prior to the week in Atlanta at Convergence, I spent a couple of days in Las Vegas with the Parature team, which had been acquired just a month before by Microsoft. Parature is one of the leaders in a growing set of vendors focused on providing customer service and support on digital channels. Parature brings strong capabilities in managing multi-channel digital interactions and boasts a strong knowledge management backbone that helps to surface relevant information for customers and agents. The addition of Parature gives Microsoft extended capabilities in knowledge management, customer self-service capabilities, and digital interactions across multiple channels.
The Microsoft team has also made progress on what it's now calling "Unified Service Desk", an evolved version of a customer service agent framework, aimed at making agents more productive in high scale interaction environments. Bringing the two of these into the fold gives Microsoft a chance at making deeper in-roads into the contact center world.
EMBEDDING THE REST OF MICROSOFT CAPABILITIES FOR BUSINESS USERS
One of the apparent changes in Microsoft's go to market strategy is a pivot from a bundled Microsoft experience, to developing on Microsoft technologies, first and best, to an evolving philosophy that is centered around the user's desired outcomes and experiences. This signals, at least in principle, a decoupling of the bundled philosophy that helped Microsoft achieve a near monopoly for much of the 80s and 90s by bundling Office, IE, and Windows together.
Ironically, while seemingly moving to be more open, Microsoft as a whole arguably has more internal consumer and enterprise capabilities and assets to leverage than just about anyone. Many of the demos highlighted other Microsoft technologies such as Skype, Yammer, Sharepoint, Surface tablets, Nokia phones, and Power BI analytics to name a few. XBox Ones were on display as were 3D printing devices. A demonstration by Jujar Singh of the new marketing and customer service capabilities was done using a Google Chrome browser.
5. Microsoft Dynamics Challenges and Opportunities
Microsoft has solidified themselves as a strong #2 contender in most CRM deals, especially in deals outside of the deeply embedded SAP and Oracle install bases. That said, they are still far behind Salesforce in terms of mindshare, but they're starting to garner some attention where they previously haven't.
For example, during the course of several conversations at the event, a vendor who has relatively strong ties to the Salesforce ecosystem began to whisper about how they are seeing Microsoft show up in the new deals and win business in places that traditionally would have been Salesforce shops.
It was a telling anecdote that illustrates the state of the market and the opportunity before Microsoft. In many ways, they are a few chapters behind Salesforce. Salesforce's marketing cloud is far ahead at the moment, with Microsoft Marketing getting ready to launch. The same story with Salesforce Service cloud for most use cases. But Microsoft's story is becoming clearer, broader, and more compelling. Almost always, the Microsoft solution is offered at a significantly cheaper price point, which theoretically creates more opportunity for value creation for the company deploying the technology.
The flexibility that Microsoft offers in deployment options may also emerge as a growing competitive advantage as more organizations prefer hybrid deployments, with a mix of cloud and on premise data, computing power, and applications.
While they are making great progress, there are two things Microsoft needs to do to elevate their game even further:
(1) Myself and other analysts have been commenting for the past several years about the latent opportunity that exists if Microsoft can harness and orchestrate their far reaching capabilities. In fact, as you look across the enterprise landscape, they are in the top 3 in nearly every category. While recent demonstrations and use cases (like Delta using Nokia phones an Microsoft Applications to enable flight attendants to serve passengers), there is a green field of opportunity to do more of this.
(2) The next generation of commerce will not only require the ability to centralize data and interactions and allow people to analyze and respond to customers, but it will also increasingly leverage artificial intelligence, recommendation engines, and automation. While Microsoft has made tremendous strides over the past couple of years on simplifying and extending the core capabilities of their CRM offering, the leveraging of artificial intelligence and predictive analytics to help enable marketers, salespeople, and agents to serve customers better would be a tremendous next step, and few companies have better opportunity to do so.
For additional comments or questions, please contact me at brian AT brianvellmure DOT com.
DISCLAIMER: Microsoft paid for all of my travel, accommodations, and much of my food and beverage at Microsoft Convergence 2014 in Atlanta. They are also an advisory client.