Last Saturday, my son played in his first flag football game. It was pouring rain. It was cold. It was awesome. Nervous and shivering at first, a little enthusiasm and the kids were loving it. It sparked a later conversation about whether I'd played in rain or snow. It was fun reliving the memories on playing football in 2 degree weather on frozen fields at the Air Force Academy, sleeting and freezing rain in El Paso, and snow flurries in Utah.
The very next day, my wife prompted me as a slew of texts from HER friends were talking about the Eagles Lions blizzard game. NFL players were playing football in 6 inches of snow. The simultaneous subplots were remarkable. The game appeared comically to be happening in slow motion. The Lions had to abandon their prolific passing attack and resort to the run. After scoring touchdowns, teams went for 2 point conversions instead of trying to kick the extra point because it was too slippery to do so.
It's not the same as a sunny day…But you've got to make adjustments
"It's not the same as a sunny day, that's for sure. But you've got to make adjustments" said Matthew Stafford, quarterback of the Detroit Lions.
The game of football often provides a fantastic metaphor for business and for life. Our lives often experiences metaphorical rainstorms, wind storms, and blizzards. Each of us makes choices about how we respond to unexpected and often difficult circumstances.
Armed with hundreds of hours of game films, decades of experience, and detailed game plans, the coaches were forced to make decisions in unprecedented conditions. It's not unlike how many leaders feel today. When a Eagles defensive back told his coaches he was having trouble covering the post pattern, Eagles head coach turned that into an advantage by successfully throwing the post pattern against the other team, turning the tide of momentum, and ultimately the game.
When Calvin Johnson was slammed into the snow and emerged with a facemask full of snow, he was faced with choices. Keep playing? Avoid that next time? Do whatever it takes to help his team win and recognize that there were emerging advantages that might make the weather an asset.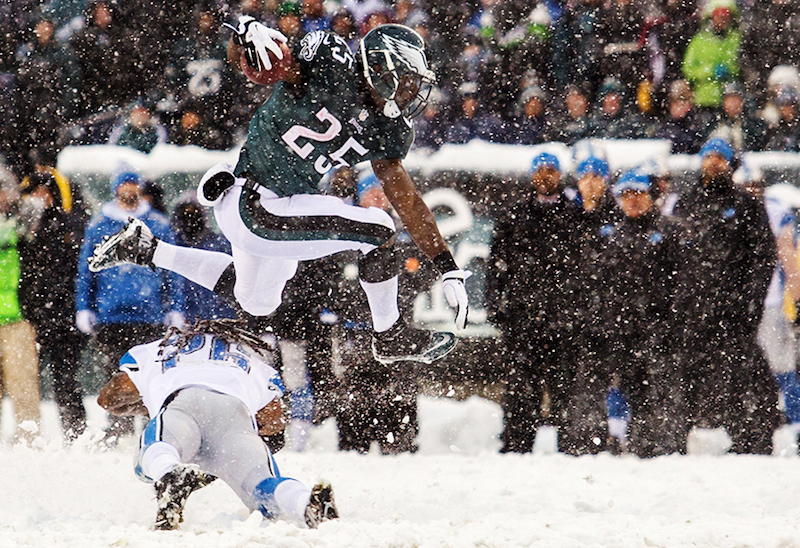 When LeSean (shady) McCoy realized that the vaunted Lions run defense was having trouble stopping him when he was attacking the defense head on and running "North/South" instead of "East/West", he kept at it. He kept at it so well, he broke a single game rushing record that had stood for more than 50 years.
The fans.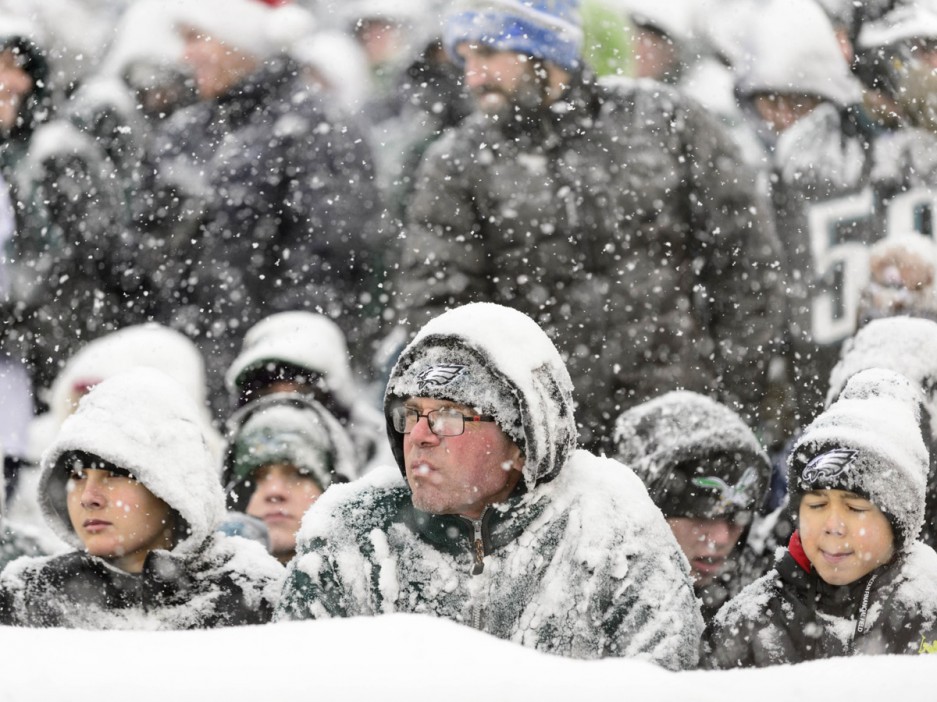 The fans thought they would see one thing. They got another. Stay. Quit? Hide? Get some hot chocolate?
The media.
Today's cameras heavily rely on autofocus. The game didn't allow that rendering most photographers to have to go to Plan B. Many just decided to wait until the snow cleared up , or put on a different lens that allowed them to take shots, though they were sub-optimal. One photographer took some amazing shots like the one below by shooting the entire game in manual focus, something he'd never done before. (For the full story, click here):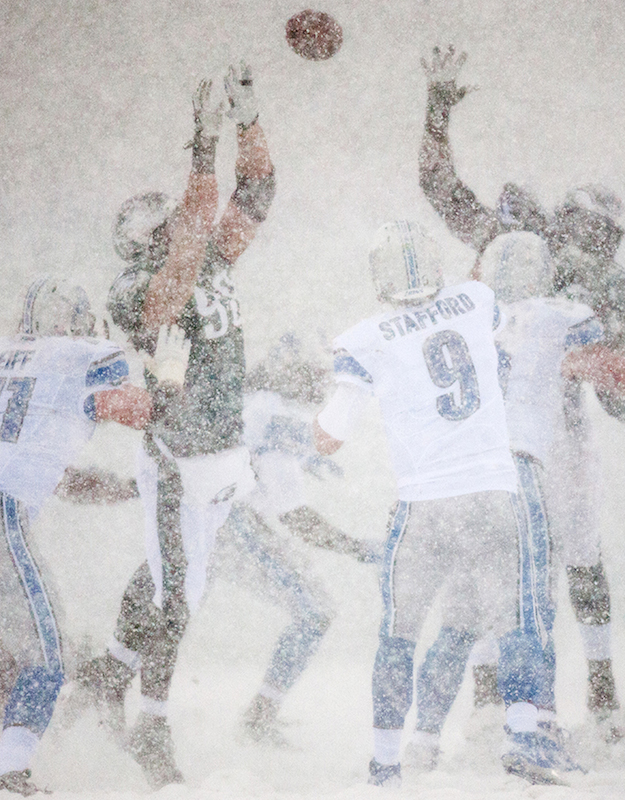 While technology is often an asset, sometimes you have to abandon it to truly be effective.
The maintenance team.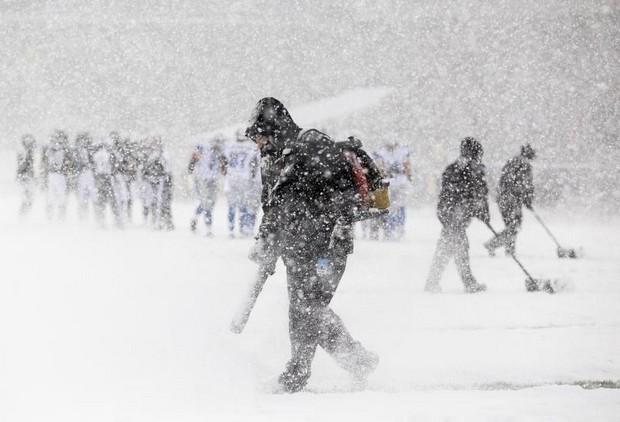 Field maintenance is often concerned with sprinklers and grass length. In this case, they were actively using snow shovels and snow blowers so that teams could see out of bounds and yard markers.
Decisions. Impact.
As executives face the blizzard of technological change and uncertainty, they face significant choices, not unlike the coaches in the blizzard bowl last Sunday. Continue on with what we've known? Stick to the game plan? Adjust. Be aggressive? Be conservative?
Making real time decisions in increasingly uncertain times is becoming more critical. Waiting for or simply relying on "Best Practices" is a strategy with diminishing returns.
As customers wade through a slippery and heavy snowdrift of content and options, they are faced with choices that are increasingly unclear. Marketers who position themselves as beacons of clarity and help will succeed.
Change is not just affecting the job and roles of leaders. It's effecting managers, front line workers, administrative task. Everyone has their own story. Architecting and orchestrating a platform where everyone can adjust, create value, contribute, and be rewarded is a chief challenge for the leaders of today.
"Everybody has a plan, and then the first snap, and it kind of goes awry," Eagles coach Chip Kelly said. "We talk all the time that it's how you react … We're both playing in the same conditions, and I think our guys embraced it. They really enjoyed it. They had a lot of fun."
A blizzard of change is among us. Embrace it. Enjoy it. Have a lot of fun. How we respond will make all the difference in the world.
This post was provided as part of the IBM for Midsize Business program, which provides midsize businesses with the tools, expertise and solutions they need to become engines of a smarter planet. I've been compensated to contribute to this program, but the opinions expressed in this post are entirely my own and don't necessarily represent, nor have they been influenced by IBM's positions, strategies or opinions.