Tonight, the 2013-2014 NFL season kicks off. The popularity of the sport continues to grow beyond expectations. Along with it, the fantasy football season also begins. Trash talking, trades, billions of dollars in so-called "lost productivity" for corporations. It also continues to grow in popularity, year after year.
Fantasy sports aren't just limited to football, however. Fantasy baseball, hockey, nascar, soccer, etc. are all available for you to build your own dream team and compete against others. Americans spend between 3 and 9 million hours watching NCAA tournament games at work every March and countless more filling out their brackets, and following along to see how they are doing.
My first introduction to fantasy sports was a rotisserie baseball league that started in 1987. 25 plus years later (gulp), I'm still involved with many of the same guys from high school. Now, it's a good excuse to stay in touch between the chaos that includes kids and careers, and barely gets squeezed in each year. A lot has changed, however, in the last two and a half decades.
Back then, we would meet in someone's garage, and choose our teams based on what we knew because of our following of the sport, what our baseball cards said, what the previous year's stats had been. It wasn't all that uncommon for someone to draft someone to their team who had retired, was out with a torn ACL, or simply was on the downside of their career. On the flip side, sometimes someone would get drafted that no one else in the league had ever heard of that would be the next superstar.
Our league commissioner Jamey would get the newspaper daily (for younger readers, newspapers were archaic versions of news readers that actually got thrown onto your driveway each morning with the previous days news printed on very thin compressed tree particles). Jamey would meticulously score, write down the scores on his pad of paper, make xerox copies of the standings and pass them out at school every week or two so we could see how each team was doing. It seems inconceivable by today's standards.
Information asymmetry was high. Opportunities for arbitrage and domination were significant. This led to a relatively dramatic spread between the dominant teams and those who weren't very good.
Fast forward to today, and the ecosystem has matured significantly. Today, built into most fantasy sports platforms are full stats from previous years, nonstop news feeds with updates on players activities. performance in practice, coaches' comments, and projections based on blend of machine based algorithms and expert's opinions.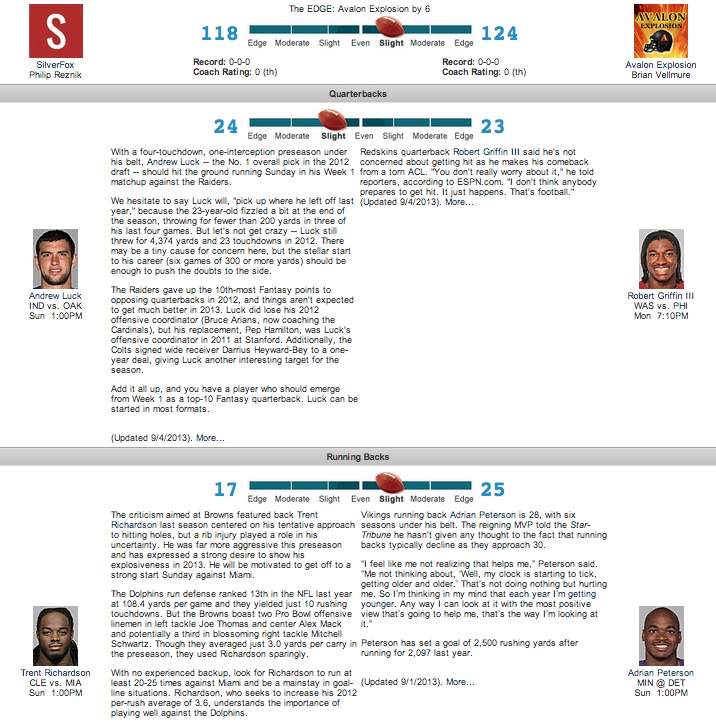 Yesterday, for the first time, I received an email that highlighted the top 3 free agents available based on predictions about this week's performance.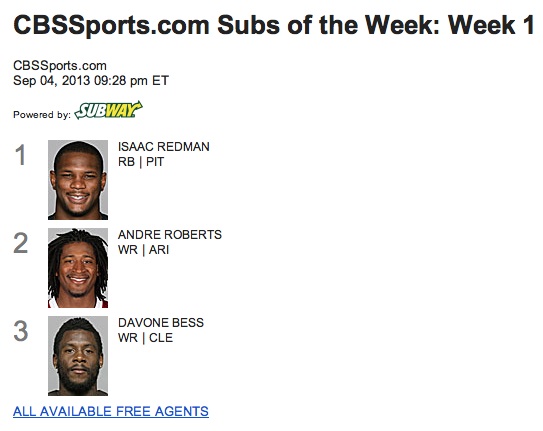 I've recently been receiving automated analysis of weekly baseball match ups and performance and which teams had the best drafts. CBS sports recommends to me which players to place in my starting lineups based on this weeks matchup and past performance indicators of how well certain teams defend against Wide Receivers, on the road, during a night game.
Big data, artificial intelligence, predictive analytics, recommendation engines, content marketing, digital communities, recurring billing and subscriptions, all powered by expanding amounts of automation. It's all here, and most businesses could learn from what CBS sports and other fantasy sports platforms are doing. Add-on products continue to be added to the platform, generating additional revenue streams for the platform and its ecosystem of participants.
One interesting observation is how dramatically information asymmetry has narrowed. Simply by joining the platform and the league, all owners get the same information. Since the quality of the information has continued to go up and access had been democratized, there are now much smaller variances in the performance of the teams. Winning and losing are often due to chance events like injuries, lack of participation by the teams' ownership, or things completely unforeseen.
Billy Beane, the star of the book and movie, Moneyball has made the rounds on the Big Data and Analytics speaking circuit over the last few years and regularly highlights that the cutting edge analytics that was once the competitive advantage of the budget strapped Oakland A's has now been adopted and iterated upon by most teams in Major League Baseball.
What can we learn from observing fantasy sports?
– Platforms win. While things have become harder for fantasy owners (competitors) to differentiate themselves, the value that the platform provides to all participants continues to become more valuable. This in turn makes the platform more valuable. We see this playing out before our very eyes with Amazon, LinkedIn, and others. Read Three-Dimensional Strategy: Winning the Multisided Platform or The Age of the Platform by Phil Simon. While becoming a platform isn't for every organization, understanding the dynamics of a networked economy is critical to future success.
– More effectively leveraging data and making sense of it matters to your business today. Depending on your current maturity level, take the next step in developing this capability. For some orgs, this just means a centralized CRM database. For others, it means appending traditional structured data with social data, geo-location data, sensor data, or other external data to gain a more comprehensive view. For others, it means maturing from historical insights to predictive analytics. Regardless of where you are, take the next step. Your competitors are.
– Democratization of access is permeating every industry. Your customers, competitors, and suppliers are becoming smarter. In an era where access to anyone, or anything, from anywhere is becoming more of a reality, how will you compete? When and how will these disruptions affect your industry? Your organization? Your role? How will you respond?