Between Arousal and Control lies Flow.
We could probably stop there (but don't – read on).
Think on that for just a minute. Lots of Mindsparks emerge quickly for me.
Between arousal and control lies 'flow' via @Mich8elwu at #digitslsurrey

— guy stephens (@guy1067) May 26, 2011
When I first heard this quote, Guy Stephens was live tweeting Michael Wu's session at Digital Surrey last summer. It actually brought to mind the visual below.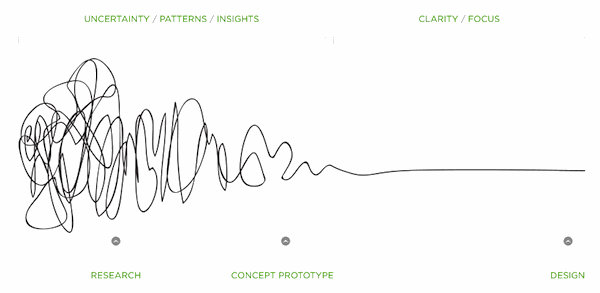 It illustrates the process of design, of solving or simplifying a problem, of creating something new, …
The process isn't linear. It isn't exact. Early on, it's all over the place, searching for it's legs, looking for answers, for patterns, for structure. Eventually, clarity and focus is found.
In a business (and societal) environment where more of the "typical" is complex and chaotic, I see this pattern playing out more often, with higher frequency, not just in the world of design, but an expanding arena of domains.
What my friend, Dr. Wu was referring to in his presentation, however, was the flow model which categorizes mental state in terms of challenge level and skill level. It was created by Mihaly Csikszentmihalyi, a psychology professor who has been recognized as "the world's leading researcher on positive psychology".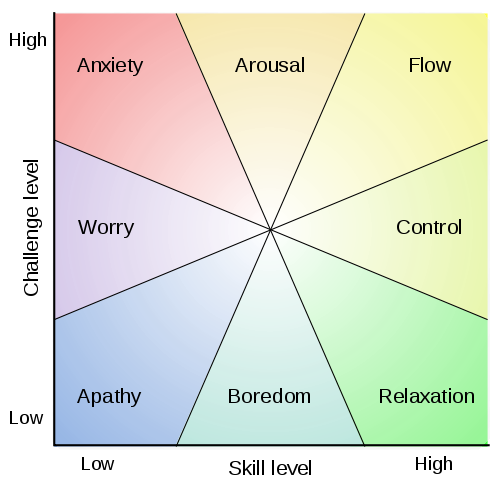 The flow state is the ideal mental state. It's being in the zone – the groove. It's where happiness is achieved, and productivity is its highest.
From Wikipedia:
The idea of flow is identical to the feeling of being in the zone or in the groove. The flow state is an optimal state of intrinsic motivation, where the person is fully immersed in what he is doing. This is a feeling everyone has at times, characterized by a feeling of great absorption, engagement, fulfillment, and skill—and during which temporal concerns (time, food, ego-self, etc.) are typically ignored.

In an interview with Wired magazine, Csíkszentmihályi described flow as "being completely involved in an activity for its own sake. The ego falls away. Time flies. Every action, movement, and thought follows inevitably from the previous one, like playing jazz. Your whole being is involved, and you're using your skills to the utmost."
It's the last sentence that should capture the attention of executives. The persistent questions (should) remain.
*** How can I create an environment where my employees and external contributors are consistently maximizing the use of their skills?
*** What would my organization look like if more of my employees were engaged in the flow state more of the time?
Leveraging Social Business and Gamification to achieve Organizational Flow
As the image illustrates, putting complex challenges in front of people who don't have the necessary skills, creates anxiety. Putting low challenge tasks in front of skilled workers causes them to relax or be bored.
However, creating an environment where challenging tasks are placed in front of moderately skilled workers creates a state of arousal. When the skill level moderately surpasses the challenge, a mental state of control emerges. Between these positive states, lies the holy grail called "flow". The key is creating and refreshing alignment between skill level and challenge level.
I would submit while the research is mostly focused on individuals, theoretically this concept should be able to be extended to entire organizations.
*** How can an organization exist in a perpetual state of flow, operating at peak performance where skills and challenges are aligned for maximum productivity?
Here's where the concepts and practices of social business and gamification can play significant roles.

One of the core foundational benefits that exist in leveraging social technologies is heightened awareness of who, what, and where things are happening within the context of any given network (public or private).
One of the biggest traditional problems for organizations of all sizes is that existing challenges aren't even known, and if there are known, no one is quite sure who has the best skillset to solve them. Traditionally and today, there is a ton of wasted opportunity in identifying challenges/opportunities and getting the right people to solve them, creatively and collaboratively.
The heightened ambient information exchange that social technologies enable, properly applied, can facilitate better alignment of skills and challenges for individuals and organizations, respectively. This (along with a host of other benefits) is fueling the rush to build and acquire social tools by the major technology vendors. Social is a core component for the next generation enterprise (thought most are still wrestling to understand what these new technologies really mean and how to properly apply and integrate them).
Additionally, one of the key components of flow is that the activity is intrinsically rewarding for the individual. Game designers have long leveraged flow dynamics in game design to help tap into intrinsic motivation factors while creating a progressive journey where skill and challenge levels move in close alignment.
While still in a relatively nascent stage (in the area of concept/prototype in the squiggly design graph above), layering gamification concepts and technology on top of social networks to provide a work environment where a state of flow can be reached by more people, more often may be a significant contributor on the next frontiers of productivity and innovation.
| | |
| --- | --- |
| | This post was written as part of the IBM for Midsize Business program, which provides midsize businesses with the tools, expertise and solutions they need to become engines of a smarter planet. |