"Organizations are no longer built on force, but on trust" – Peter Drucker
"Technique and technology are important, but adding trust is the issue of the decade" – Tom Peters
"Mistrust doubles the cost of doing business" – Professor John Whitney, Columbia Business School
"As you go to work, your top responsibility should be to build trust" – Robert Eckert, CEO, Mattel
"Transcendant values like trust and integrity literally translate into revenue, profits and prosperity" – Patricia Aburdene, Author of Megatrends 2010
————————————————————-
The quotes above were pulled from the book "The Speed of Trust: The One thing that changes everything".
In the book, Steven M.R. Covey makes the argument with significant validation that establishing trust is the quickest path to success.
The economics of trust are simple
"Trust always affects two outcomes – speed and cost. When trust goes down, speed will also go down and costs will go up. When trust goes up, speed will also go up and costs will go down."
Ponder that for a minute. In any relationship, personal or business, progress ultimately hinges on this one simple thing. When the presentation is over, when the proposal is offered, when all the due diligence and negotiations have been performed, doesn't it ultimately rest on whether each side trusts each other to honor their stated obligations?
One could make a strong argument that the maturing customer revolt; the change in customer behavior that is driving the emergence and growth of Social CRM and Social Business has been birthed out of a general distrust of organizations, and institutions in general, for that matter.
Who the world trusts
Since the customer has lost trust in what marketers and sales people say, and since they can't trust customer service to actually help them in a meaningful and timely way, they have moved instead to solicit 3rd party opinions about the organizations that may have a solution for them. They look to industry experts and peers for opinions, insights, and answers they can trust. This trend is expanding quickly. According to a study from Shopper Sciences, in association with Google "the average shopper used 10.4 sources of information to make a (purchasing) decision, up from just 5.3 sources in 2010."
Edelman, one of the world's largest and well recognized global PR firms has produced something called the "Edelman Trust Barometer" for the last several years.
In the 2012 edition, released this week, we see who the general population views as credible spokespeople – people they can trust. We see that 'Academic or Expert', 'Technical expert in the company', and 'A person like yourself' are bunched together in the Top 3. You'll notice that CEOs and government officials absorbed significant hits to their collective reputation this year.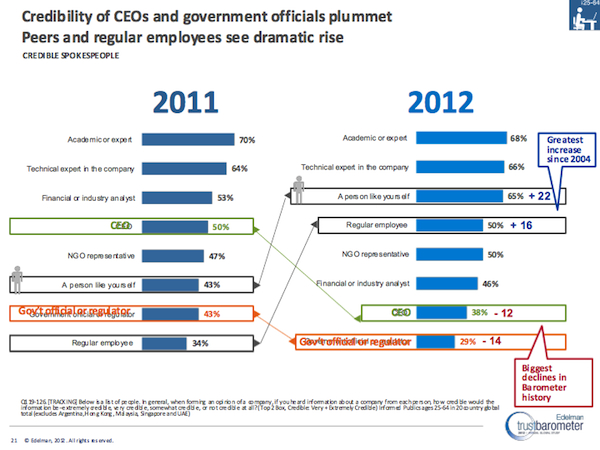 Another key finding is that social media grew significantly as a trusted information source, gaining ground on traditional media sources.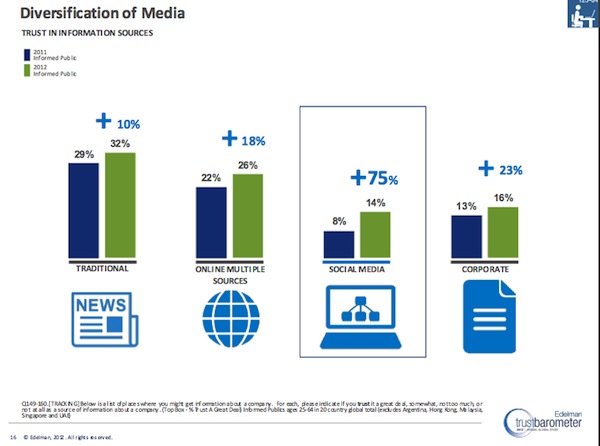 And in general, customer expectations are woefully short of being met. You'll see in the graphic below a huge gap between what customers consider as important and how companies are performing in areas like:
Listens to Customer Needs and Feedback
Offers High Quality Products or Services
Places Customers ahead of Profits
Takes Responsible Actions to Address an Issue or Crisis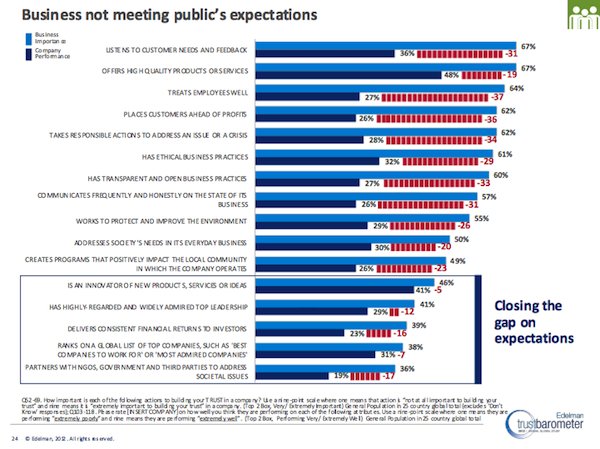 Where do we go from here?
The quick take is that TRUST MATTERS. It matters more than we think. As executives, as marketers, as sales people, as customer experience architects, and as customer service personnel, at the core of our job to create trust. Trust is the lubricant that speeds relationships and success, with people, and with organizations.
The key observations are:
– There is a significant trust void between customers and organizations
– People primarily trust experts and people like them
– People solicit lots of different opinions and tap lots of different sources when considering vendors
In the graphic below, survey participants have given us clues on how we can continue to build and deepen trust with our prospects and customers.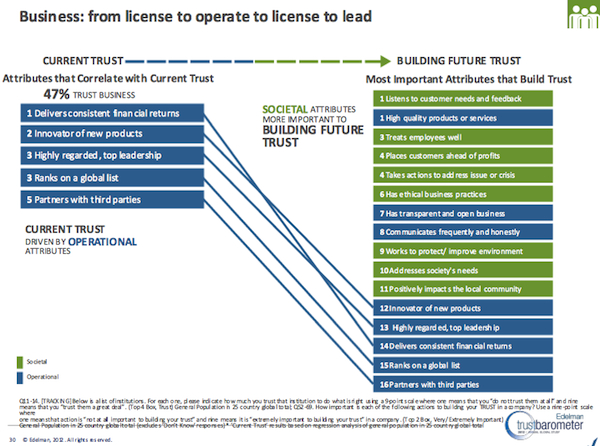 How do we do this?
The good folks at 1to1 Media summed it up with this tweet yesterday.
Is it just that simple?
There are a myriad of ways that organizations can respond to create trust. Content marketing, coupled with listening to and engaging customers through social channels are certainly a start. Organizations who do a great job of positioning themselves (and their employees) as experts in their field, and deeply embedding themselves within their respective communities and consistently adding value stand a great chance to do well in this shifting market.
Hiring the right folks, while establishing and nurturing a customer focused culture, and evolving internal and external communication channels and structures are all part of the equation.
The widening customer expectation gap and the pervasiveness of distrust presents a GREAT opportunity for those organizations who are able to respond in a way that resonates with their audience, as they will truly standout.

More resources
(1) Here's a recent article by Don Peppers titled "The Only Lasting Competitive Advantage is Extreme Trust"
(2) Embedded below is the full 2012 Edelman Trust Barometer Slide Deck