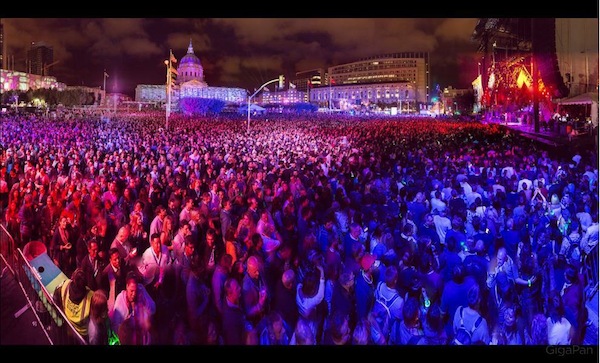 Over 150,000 registrants, 5,000,000 online streaming views, and well over 1,000,000 meals to help feed the hungry. The stage(s) featured execs from some of the most recognized organizations in the world, a former US Vice President (Al Gore) and Secretary of State (Hillary Rodham Clinton), the poster persona for Self Help (Tony Robbins), the Beach Boys, Bruno Mars, Cake, a consumer product launch from another well known pop music artist – will.i.am, and a heavy focus on philanthropy and global issues. If you haven't been there (lately), the description might sound strange for an event that is hosted by the world's most well known CRM technology vendor.
What Salesforce has done with Dreamforce is astounding. It's currently third on my list of fascinating social experiments behind Las Vegas (its history and growth), and Burning Man. It really is in that same group of phenomenon that transcends boundaries and easy classification (and it's the only one that doesn't take place in the desert).
Sifting through the pomp and circumstance of art, charity, music, cocktail parties, and dinners, you find Salesforce, the company. It's a publicly held company that now has in excess of a $5B a year annual run rate and a market cap in excess of $34 Billion. They've been named by Forbes magazine the "Most Innovative Company in the World" for 4 years running. And they make all that money by providing business applications (and increasingly platform services) through the cloud.
As the CMO of one fast growing, fairly mature startup told me "We're just one star in this constellation that continues to grow and expand. It's amazing."
In addition to the art and music on display from the people we more easily recognize as artists, Salesforce does their own version of "theater" with software demos that are intended to inform and inspire. Keynotes this year included drones, augmented reality applications, and real time customer service video and remote device control interactions.
Competitors still often say that that Salesforce is an archaic cloud company (measured on the tech continuum) that sells antiquated SFA software that's too expensive. There is still a bit of truth to that. It's their competitor's job to amplify that story, but reality is moving away from those claims.
If you were to zoom in and look closely beyond the name of what 15 years ago, was a pretty poor solution with a moonshot idea, Salesforce has developed a massive, vibrant, and rapidly evolving ecosystem that continues to look for ways to innovate to help their customers serve the needs of their customers.
The how is not necessarily an easy answer to articulate. A key unifying thread to their messaging and product development is that they are simultaneously modularizing and consolidating the elements of computing to meet the needs of customers. The reason – speed to market is an imperative. Salesforce recognizes this and is attempting to educate and empower their customers to respond and innovate faster than their competition.
At last year's Dreamforce, they revealed Salesforce1, which was actually a rebranded and re-architected Chatter (their collaboration offering) that was 5 years in the making. It was to be the fabric of all applications. However, the audience and media mostly received this as a new mobile app, so Salesforce adopted their message to the market's maturity at the time.
This year's Dreamforce, though, revealed a progression of last year's message. Salesforce 1 is the underlying platform for all of their clouds (at least in their messaging); Sales cloud, Service cloud, Marketing cloud, Community cloud, and Analytics cloud (also "announced" at this year's Dreamforce). Sales cloud demos mostly highlighted mobile apps and capabilities, not the browser based app that everyone traditionally thinks of when they think Salesforce. I could almost (but not quite) hear audible sighs and groans from their competitors whose major attack on Salesforce has often been their antiquated UI, and heavy user administration burden (in addition to their now premium pricing). Those appear to be fading away as Salesforce innovates its user experience for the mobile world.
The Ecosystem
The ecosystem is ridiculously strong. Inevitably, any startup (or tech company remotely related to the front office) that thinks they can help solve customer problems frames their solution somewhere with Salesforce in the dialogue. Salesforce is a part of each conversation, either as a competitor, or as a partner. Customer focused technology startups inevitably either aim to disrupt or integrate with them, or increasingly both.
Dreamforce featured 400 partners and a sponsor pavilion that was impossible to navigate in any reasonable amount of time, many of them commenting about the high level of traffic, leads, and engagement through the booth.
The article of startup CEO Paul Teshima of Nudge gives testimony to the center of gravity and vibrancy that exists within the Salesforce ecosystem. (place link here)
The Culture
Salesforce has the swagger of a champion. They have been the undisputed leader in the broader CRM space for several years now. They are at least on the short list for nearly every CRM opportunity, large and small, that is considering a cloud computing CRM option. They have cultivated a culture of innovation, not only within their own sprawling organization, but throughout their ecosystem of customers and partners. This is represented with the energy that pulses throughout San Francisco at each Dreamforce.
They consistently elevate their customers in their messaging and marketing, and celebrate and amplify their successes. They elevate the entire conversation like no technology company that Ive ever seen with their focus on philanthropy and the creation and evangelism of the 1:1:1 program.
It's a culture that has much to admire. But as many leaders have alluded to, it's hard to keep something special indefinitely. Every empire crumbles and every champion falls, eventually. Salesforce doesn't appear to have this possibility in sight, which has been the danger of many champions throughout history. Their eyes are squarely set on surpassing SAP as the most dominant enterprise application vendor on the planet.
Financials
Over the last 5 years, revenue has impressively grown in excess of 30% annually, which is a rarity for any company that does more than $5 billion annually. However, it's important to note that they haven't shown a profit since 2010. They've also taken on more debt than in the past in the past couple of years. These appear both to be indicative of the fast moving marketplace when marketshare is an imperative and platforms rule. There is compelling reason for Salesforce to continue to invest aggressively as network strength is an asset that provides amplifying returns. However, it also has raised some red flags in the financial analyst community.
Salesforce owns mindshare and is and has been able to charge premium prices for the value they are able to create and distribute, not only through their SaaS applications, but also through the entire ecosystem. This has driven their incredible run of record revenue growth. This should continue, until it doesn't. Given their current financial position, price does not appear to be a lever they have the ability to adjust much if the headwinds begin to blow against them, so they'll need to resort to alternative strategic levers if things should start to slow down. History informs us that they will. We just don't quite know when.
The Technology
Salesforce pioneered the trend that has launched a steady assault over the last decade on the value of simply "making things work" from an IT perspective. Professional services continue to be cannibalized by higher and higher functioning technology. But it's not that there is no value to IT related professional services anymore. It's just that the scarcity and the drivers of value have shifted, and Salesforce's innovation has driven much of this change, first at the application layer, but increasingly at the platform layer.
In the battle of the marketing clouds, they are a strong player. Still up for grabs, they are squarely in the mix with Adobe, Marketo, and Oracle as chief competitors.
With the progression of Salesforce1 as a platform, and the announcement of Salesforce Lightning, Salesforce is attempting to democratize the use of computing power to everyone, enabling innovation from business leaders without necessarily needing to lean on coders and IT. At least in theory, they've disseminated the functionality of the Salesforce clouds into a series of building blocks that can be reassembled to meet the rapidly evolving needs of organizations.
Salesforce is betting that their new clouds, Communities and Analytics, will be their next billion dollar businesses. The hunch appears accurate, but the ultimate success hinges on successful execution.
It will be interesting to watch evolving use cases and if and how they will continue to deconstruct and repackage the components of their currently bundled clouds to help organization innovate beyond the constraints of traditional thinking.
Challenges and Opportunities
While Salesforce is very strong in the US, competitors often comment about their strength internationally, where data, security, and privacy laws are different. Due to varying bandwidth availability, many multi-nationals require hybrid (combination of On Premise and Cloud) deployments – again an area where Salesforce doesn't compete well.
As the product offering expands, they'll ultimately meet the fate of competing simultaneously on multiple fronts, which introduces increasing complexity and narrows the margin of error. Conversely, diversification allows them to weather disruptions in narrower segments, which theoretically will help smooth long term sustainability.
There is also the challenge of leaving the market behind. This is a challenge not just for Salesforce, but for all technology companies. The pace of change and the increasing capability set are more than most organizations are equipped to absorb practically. Salesforce is one of best at positioning and marketing, but even after the great job they normally do, there are still tons of unanswered questions. Meanwhile, innovators and increasingly pushing for more capabilities to help innovate faster.
The alignment between investment in new innovations, and packaging them up in a profitable manner for broad scale and distribution is a game that Salesforce has played well to this point. As the speed of innovation and the breadth of the offerings expand, it will be interesting to watch how well Salesforce levels up. They are in the midst of enduring their own internal transformation to accommodate these required changes.
More
There is much more to discuss about each of the topics above. For further inquiries, please connect with me at http://www.brianvellmure.com or reach out to me on Twitter @BrianVellmure.
DISCLOSURE: Salesforce.com paid all travel and lodging related expenses for me to attend Dreamforce. However, these thoughts are entirely my own and are in no way a result of any commercial relationship with Salesforce.com.
IMG CREDIT: Tech Pro Essentials