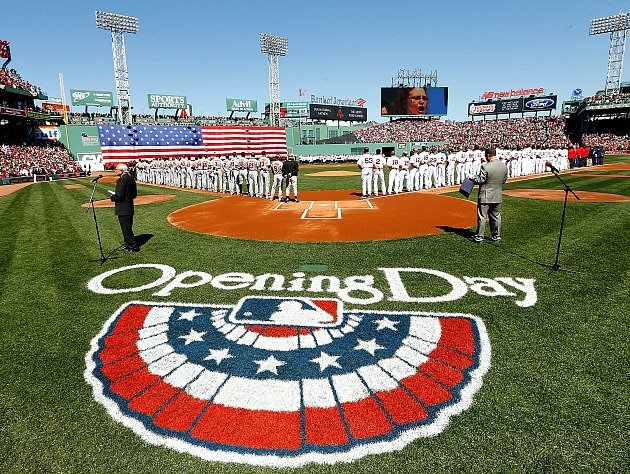 Welcome to Major League Baseball's Opening Day 2014!
You don't care, but I root for two teams: The Dodgers, and the Angels (except when they're playing the Dodgers). There are not too many baseball related things better than Vin Scully's (now broadcasting for his 64th year!) silky smooth voice, sharing from a well of legendary knowledge on a weekend afternoon.
Both LA teams clearly have a large market to draw from, and have correspondingly huge budgets (The Dodgers have the largest payroll in MLB – in excess of $235 million. The Angels are sixth, in excess of $155 million). Both have also recently underperformed (with the exception of the Dodgers historic run last season). These teams, like the New York Yankees and Boston Red Sox have the budget to acquire high profile athletes, have lucrative TV deals and millions of fans in their home markets and beyond, contributing significant licensing revenue. The deck is heavily stacked in their favor.
Why are we talking about baseball?
As I already mentioned, for most teams, it's opening day of the new 162 game MLB season, plus I'm already in full baseball mode as a little league manager, so that's where (a portion of) my mind is.
Most importantly, as technology continues to remove boundaries, smaller orgs are able to compete with larger organizations across a broadening spectrum of opportunities. This is a relatively new phenomenon. However, these large organizations have significant resource and experience advantages. There are some lessons that mid-market leaders can learn from the little and mid sized leaders of baseball.
The Oakland A's, Kansas City Royals, Miami Marlins, Tampa Bay Devil Rays, and Pittsburg Pirates all are small market teams. They have a fraction of the budget, but still often find a way to compete on the field. The Minnesota Twins have had competitive teams for years, competing with lesser known talent against the famed franchises.
For the cynics in the crowd, I'll get this out of the way first. There is a revenue sharing plan in place in Major League Baseball that helps balance things a bit. But it's important to note that even with the revenue sharing, there are 14 teams whose annual payroll is under $100 million in 2014. The Miami Marlins and the Houston Astros are under $50 million, less than 1/5 of the Dodger's payroll. So, how do they possibly compete?
There are four lessons to learn from these small market teams, that are immediately applicable to small and mid sized enterprises. The parallels are interesting, and lessons valuable.
Better Analytics
By now, everyone is familiar with the story of Moneyball. The Oakland A's are notorious for having one of the most competitive franchises over the last decade, and also for their ineptitude at generating ticket sales and creating a great fan experience (but that's the subject of a different post). They generally remain competitive with the large market teams with a fraction of the budget. If you recall, Billy Beane leveraged innovative analytics approaches to disrupt traditional methods of scouting talent. In the early 2000's, the A's assembled a team that looked like a bunch of misfits and ragtags through traditional performance evaluations, but they were up to something else. What Paul de Podesta had to say in an interview last year:
We had to take a step back and say, okay, everything we think we know about the game, everything we think makes a championship game or championship player, all the clichés we've grown up with since we played our first T-ball game, we want to start over. Unless an idea or a concept holds relevancy in today's game, under today's circumstances, then we have to be willing to not believe it anymore. So we're going to study it rigorously. And some of the old beliefs did hold water. But a fair number of them didn't. As the game had changed, these beliefs hadn't changed with it. And that provided opportunities for us.
The same things are happening today. The fundamentals of business are still firmly in place, but many things within business are simultaneously changing by magnitudes (marketing, top-down business models built around resource scarcity, drivers of value, etc).
They didn't have better tools. They just learned how to use them better, asked better questions, and subsequently created advantage that provided over $100 million in value to the organization, if measured by traditional models. Emerging analytics tools are creating a vast ocean of potential to understand new things about our customers, our employees, our systems, and the overall world around us. Outsmart your competition by understanding more than they do about the landscape you're operating in.
Better Management
Necessity is the mother of invention. Because many of these teams are forced to do more with less, they often do more with less. They are more creative. The Tampa Bay Devil Rays have a total payroll of around $77 million, but they've made the playoffs 5 out of the past 6 years. That's a significant feat for any team – an astounding one for a team that has a smaller payroll than 27 of the 30 teams in baseball.
The manager, Joe Maddon is widely admired by his players, his staff, and the managers of other teams around the league for his innovation, his intelligence, his leadership, and the culture he's built into the organization.
Some quotes from a recent Tampa Bay Times article:
"His preparation is off the charts — was as a coach, is as a manager. All the attributes you need to manage, he has them. He's connected with his players, puts them in good position, understands strategies and tendencies, he's incredible. … Joe is great at looking at strengths and weaknesses of the clubs he's playing and seeing if he can get some kind of advantage with a matchup or whatever it might be. … He's definitely a progressive thinker in this game."

– Bob Melvin – A's Manager
"He has a lot of pieces on his club that do a lot of different things, so it's not really a predictable team from an offensive standpoint. … Joe has always been someone that has tried to be ahead of the curve. … Joe is innovative. That's who he is."

Mike Scioscia – Angels Manager
"He'll try anything. He kind of throws the book out the window. … He's not an all-numbers guy, but he's a smart dude so he'll look at the matchups and go left on left. … He's not scared to try anything. He's a confident dude. You have to be on your toes."

Buck Showalter – Orioles Manager
"Joe understands how hard of a game it is, and he keeps things in perspective. … It's just his attitude. How he views things is a little different — he has great insight, great perspective, great ideas."

Jim Hickey, Rays pitching coach
You get the idea. Are you competitors and team that you're leading saying these things about your leadership and management?
Grit and Tenacity
I can relate to this one a little bit. Basketball was my first love, but I didn't necessarily grow into the prototypical hoops physique. But, here's what I learned along the way. I grew up in suburbs of Los Angeles, in a good place with some talented athletes, but no one off the chart. In the summers, we regularly played against schools from Inner City LA – historic powerhouse high school basketball programs like Morningside, Crenshaw, and Dominguez whose athletes physical prowess were far in excess of our team. Based on skills alone, we were significantly outmatched.
However, the gutty little guys often did quite well, thanks to the mental discipline and hard work ethic that Coach John Harbour installed in us. In most cases, we simply out worked our competition, wore them down, and beat many teams who were more athletically talented.
Research by Angela Duckworth found that the most common trait associated with success in children spans socio-economic and other demographic segments. It's grit. In other words,
Grit is the disposition to pursue very long-term goals with passion and perseverance. And I want to emphasize the stamina quality of grit. Grit is sticking with things over the long term and then working very hard at it.
I don't need to expand further. America is built on rags to riches stories of people who come here with nothing and become monumental successes because of their work ethic.
Away from the complacency and arrogance of the ivory towers, many of the small market teams have grit to get things done, and compete at a level higher than they're supposed to. Is your team outworking the marketplace?
Developing Talent In-House
It's really easy for us to go the grocery store and pick up prepared salads. But you're paying about a 40% markup over just buying lettuce alone. I don't have the numbers, but taking it a step further by growing your own lettuce would result in additional significant savings.
The same is true in baseball's free agent marketplace, but the multiples are much larger. Buying a proven veteran will cost millions more than drafting, nurturing, and investing in a kid for several years in the minor leagues until they're ready for the big stage. Mike Trout, arguably baseball's best overall player will make $1 million this year. Mark Buehrle, a good (not great) pitcher with some very good (not great) history, will make $19 million for the Toronto Blue Jays this year. The teams at the bottom of the financial rung develop their own players and then sell or trade high on the free agent market to the teams with money to spend.
The lesson is applicable for small to mid sized businesses as well. Hire and develop young talent. I've seen several organizations hire great, young talent, pairing them with someone of experience and get exponential returns from their effort for a fraction of the prices of a mid or senior executive.
Getting after it
Being a little guy is often a bit challenging, but on Opening Day (and every day), these small market baseball teams provide inspiration for mid-market leaders competing against the bigger guys. Enough talk. It's time to "Play Ball".
This post was provided as part of the IBM for Midsize Business program, which provides midsize businesses with the tools, expertise and solutions they need to become engines of a smarter planet. I've been compensated to contribute to this program, but the opinions expressed in this post are entirely my own and don't necessarily represent, nor have they been influenced by IBM's positions, strategies or opinions.